4-kanalig likströmslåda 12V5A för CCTV-kameror . Varje kanal smälter individuellt vid 1, 25 amp DC varje. 5 Amp DC total uteffekt. det kan mötas minst 4 PCS CCTV-kameror som arbetar samtidigt, 4-kanals Cctv Power Supply Box med lägre strömförbrukning, hög tillförlitlighet. Det kan möta efterfrågan på integrerad styrning av övervakningskamerans system .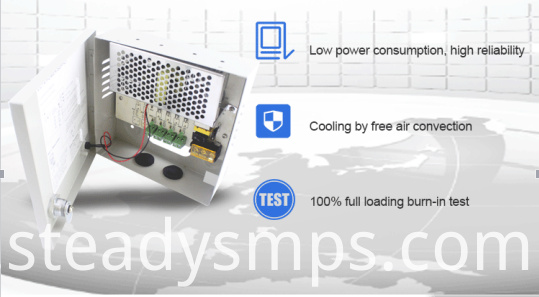 Funktioner:
>> 110V / 220V ON / OFF-brytare, Låsbar
>> Varje kanal med säkring eller PTC för skydd, ingår extra säkringar
>> Stabil prestanda, hög effektivitet, låg strömförbrukning
>> Lysdiod för nätströmslampa
>> Kylning genom luftluftkonvektion
>> 100% full laddning inbränningstest
>> Enheten upprätthåller kamerasynkronisering
>> Enkel installation sparar tid och eliminerar dyrt arbete
>> 3 års garanti
<
STD Series Box-Type CCTV Power Supply Specifications
MODEL
STD-40T-60-4
STD-40T-120-9
STD-40T-250-18
STD-40T-350-18
OUTPUT
Output voltage
12V
12V
12V
12V
Channel of output
4CH
9CH
18CH
18CH
Output current
1.25A*4
1.1A*9
1.15A*18
1.5A*18
Output current range
0~1.25A*4
0~1.1A*9
0~1.15A*18
0~1.5A*18
DC power
60W
120W
250W
350W
Voltage adj.range
±1%
±1%
±1%
±1%
Ripple and noise
120mVp-p
120mVp-p
120mVp-p
120mVp-p
Line Regulation
±0.5%
±0.5%
±0.5%
±0.5%
Load stability
±0.5%
±0.5%
±0.5%
±0.5%
Efficiency
Efficiency
85%
85%
85%
85%
INPUT
AC voltage range
AC85-132V /170-264V AC Switch 47-63Hz:240-370VDC
Leakage Current
<1mA/240VAC
Protection
Overload protection
105%-200%
T.C.
±0.03%(0-50℃)
Start.Rise.Hold time
200ms,100ms,20ms
Mechanical Shock
10-500Hz,2G 10min/1 Period,Time 60min
Insulation Strength
I&O:3KVAC,I&C:1.5KVAC I&C:0.5KVAC
Insolation resistance
I&O,I&C: O&C,500V DC/100M
Environment
Working Temperature
-10℃--40℃, 20%-90% RH


Store Temperature
-20℃--85℃, 10%-95% RH
Certification
Safety Standard
UL1012 REQUIREMENT(NOT APPLY FOR THE MARK)CLASS A
EMC Standard
FCC PART15JCONDUCTION CLASS A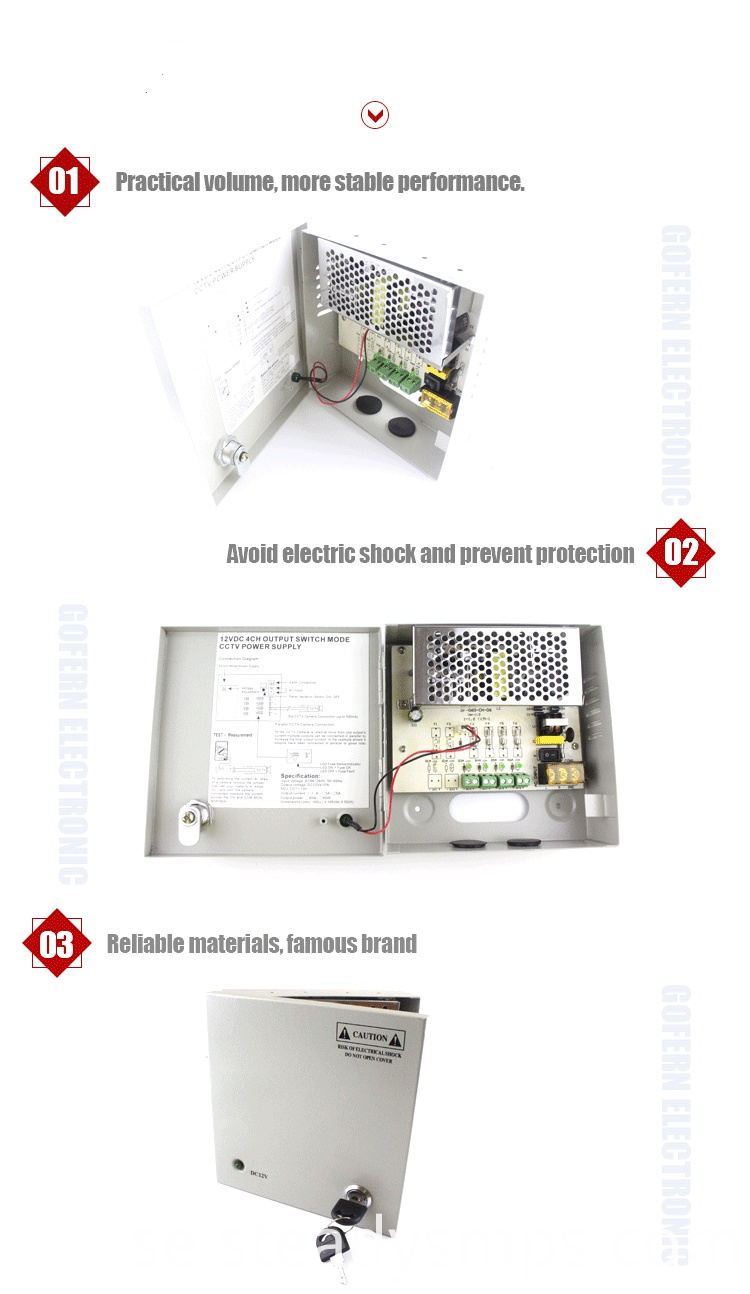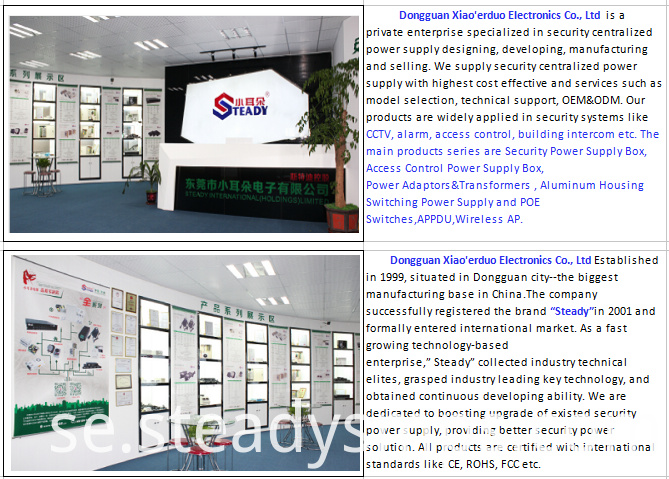 1. Tillverkningsprocess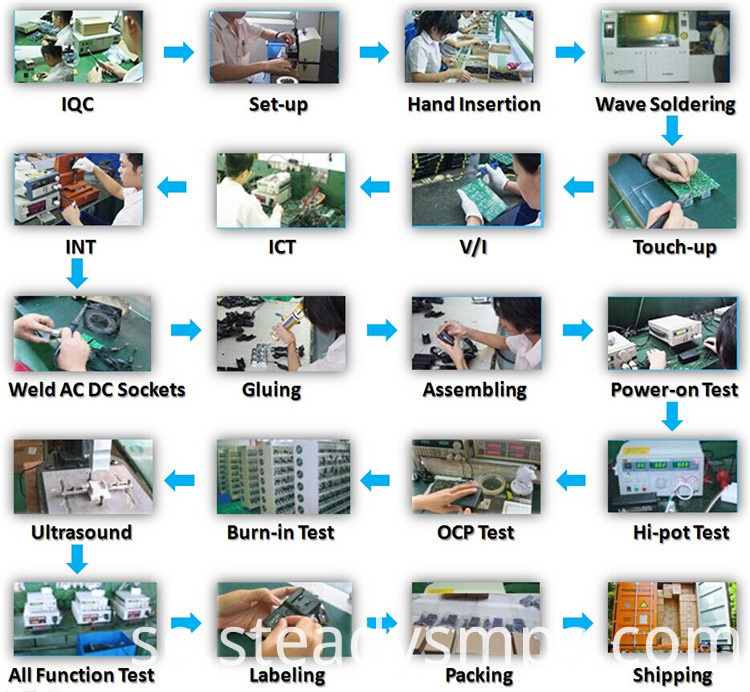 2. Utställning: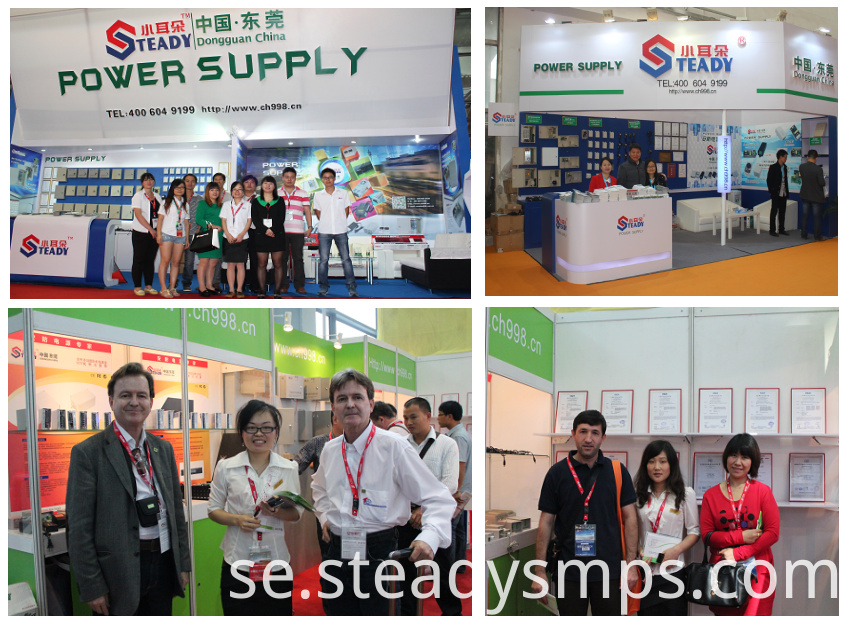 3.Certification: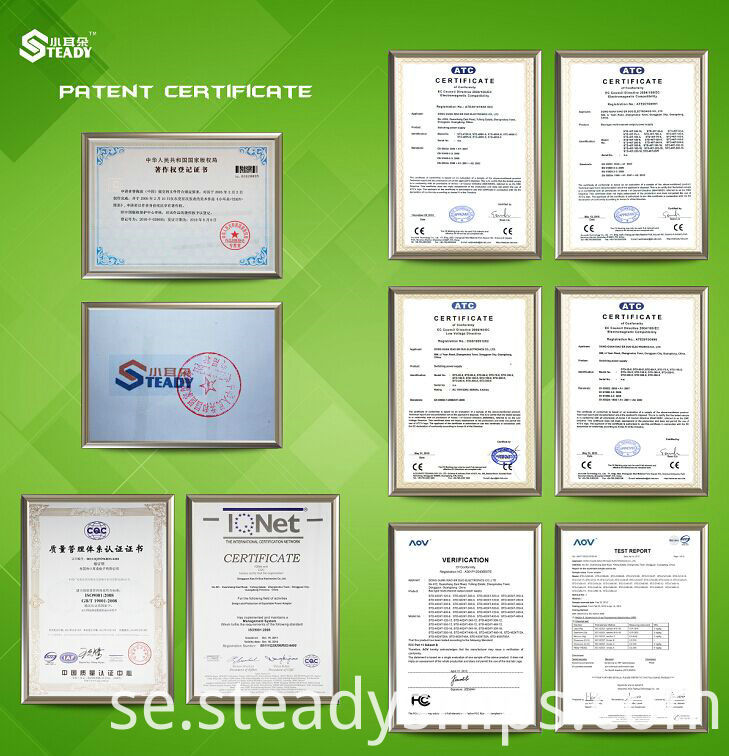 3. Förpackning och frakt: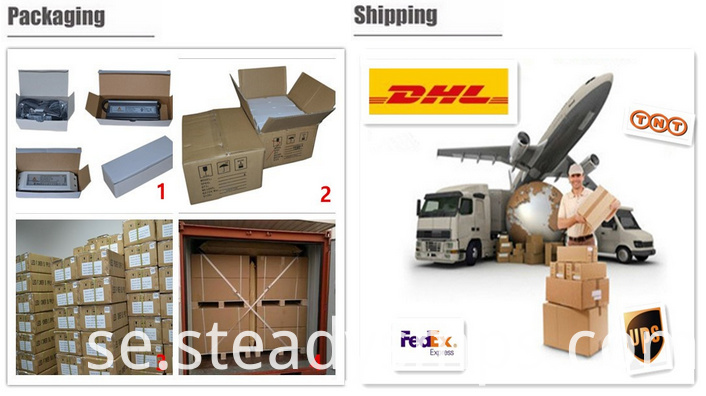 1. Vilken tjänst kan vi erbjuda?
1. Alla förfrågningar kommer att besvaras inom 24 timmar
2. Professionell tillverkare, välkommen att besöka vår hemsida
3. OEM / ODM tillgänglig:
A.Print-logotyp på vår produkt;
B. Anpassad specifikation;
4. After Sales-Service:
EN. Alla produkter kommer att ha 100% inbränningstest och strikt kvalitetsprov före leverans
B. Snabb leverans: 3-7days för prover, 15-20 dagar för bulkproduktion;
Produktkategorier : Boxad nätaggregat > Boxed Power Supply CCTV