350W integrerad strömfördelning för CCTV-kameror, 18-kanals strömförsörjningsbox 12V30A med utgång DC12V 30A för övervakningskamera system . Varje kanal är individuellt smält vid 1, 65 amp DC varje. 30 Amp DC total uteffekt. 18-kanals CCTV-strömförsörjning kan mötas minst 18 PCS- kameror som arbetar samtidigt, Cctv Power Supply Box 12v30a med lägre strömförbrukning, hög tillförlitlighet.
18 Kanal strömförsörjningsbox för övervakningskamera system. Varje kanal är individuellt smält vid 1,65 ampare vardera. 30 Amp total uteffekt.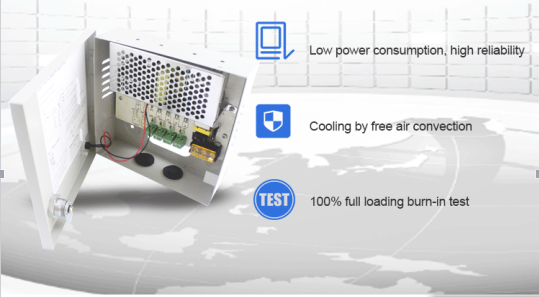 Funktioner:
>> 110V / 220V ON / OFF-brytare, Låsbar
>> Varje kanal med säkring eller PTC för skydd, ingår extra säkringar
>> Stabil prestanda, hög effektivitet, låg strömförbrukning
>> Lysdiod för nätströmslampa
>> Kylning genom luftluftkonvektion
>> 100% full laddning inbränningstest
>> Enheten upprätthåller kamerasynkronisering
>> Enkel installation sparar tid och eliminerar dyrt arbete
>> 3 års garanti
<
STD Series Box-Type CCTV Power Supply Specifications
MODEL
STD-40T-60-4
STD-40T-120-9
STD-40T-250-18
STD-40T-350-18
OUTPUT
Output voltage
12V
12V
12V
12V
Channel of output
4CH
9CH
18CH
18CH
Output current
1.25A*4
1.1A*9
1.15A*18
1.5A*18
Output current range
0~1.25A*4
0~1.1A*9
0~1.15A*18
0~1.5A*18
DC power
60W
120W
250W
350W
Voltage adj.range
±1%
±1%
±1%
±1%
Ripple and noise
120mVp-p
120mVp-p
120mVp-p
120mVp-p
Line Regulation
±0.5%
±0.5%
±0.5%
±0.5%
Load stability
±0.5%
±0.5%
±0.5%
±0.5%
Efficiency
Efficiency
85%
85%
85%
85%
INPUT
AC voltage range
AC85-132V /170-264V AC Switch 47-63Hz:240-370VDC
Leakage Current
<1mA/240VAC
Protection
Overload protection
105%-200%
T.C.
±0.03%(0-50℃)
Start.Rise.Hold time
200ms,100ms,20ms
Mechanical Shock
10-500Hz,2G 10min/1 Period,Time 60min
Insulation Strength
I&O:3KVAC,I&C:1.5KVAC I&C:0.5KVAC
Insolation resistance
I&O,I&C: O&C,500V DC/100M
Environment
Working Temperature
-10℃--40℃, 20%-90% RH


Store Temperature
-20℃--85℃, 10%-95% RH
Certification
Safety Standard
UL1012 REQUIREMENT(NOT APPLY FOR THE MARK)CLASS A
EMC Standard
FCC PART15JCONDUCTION CLASS A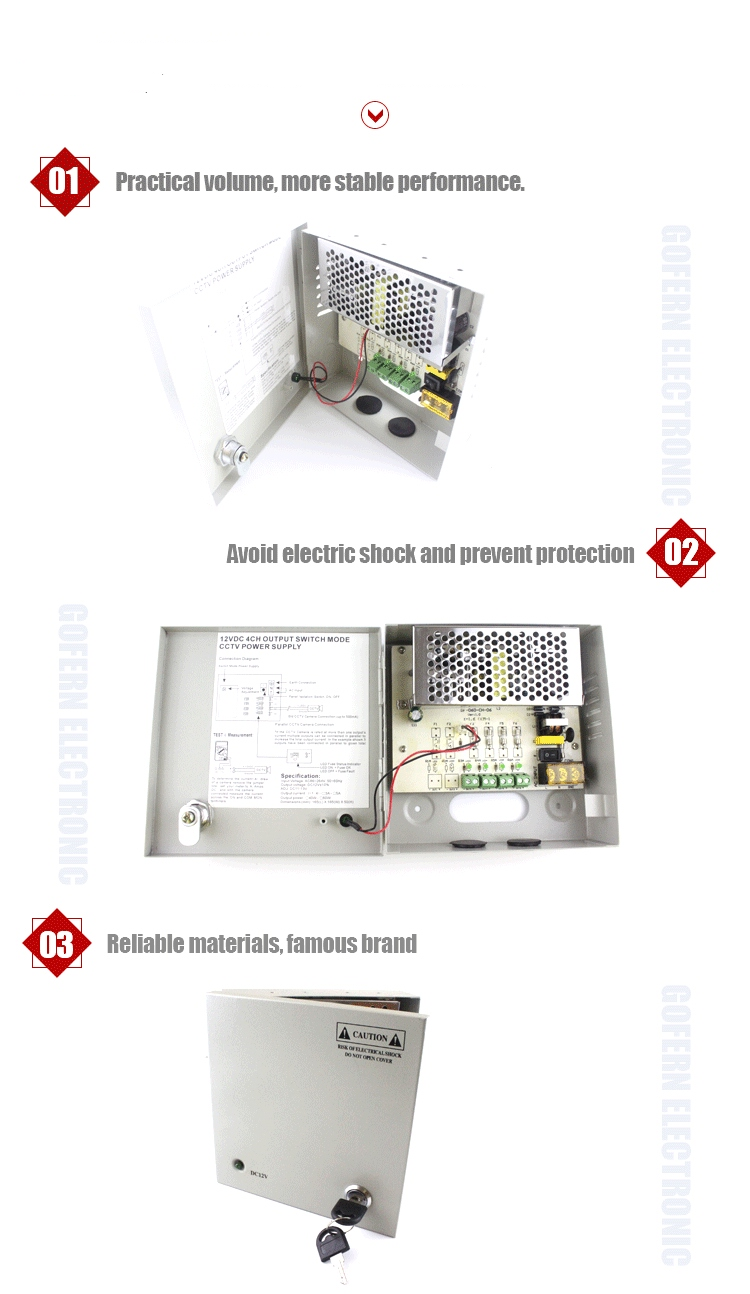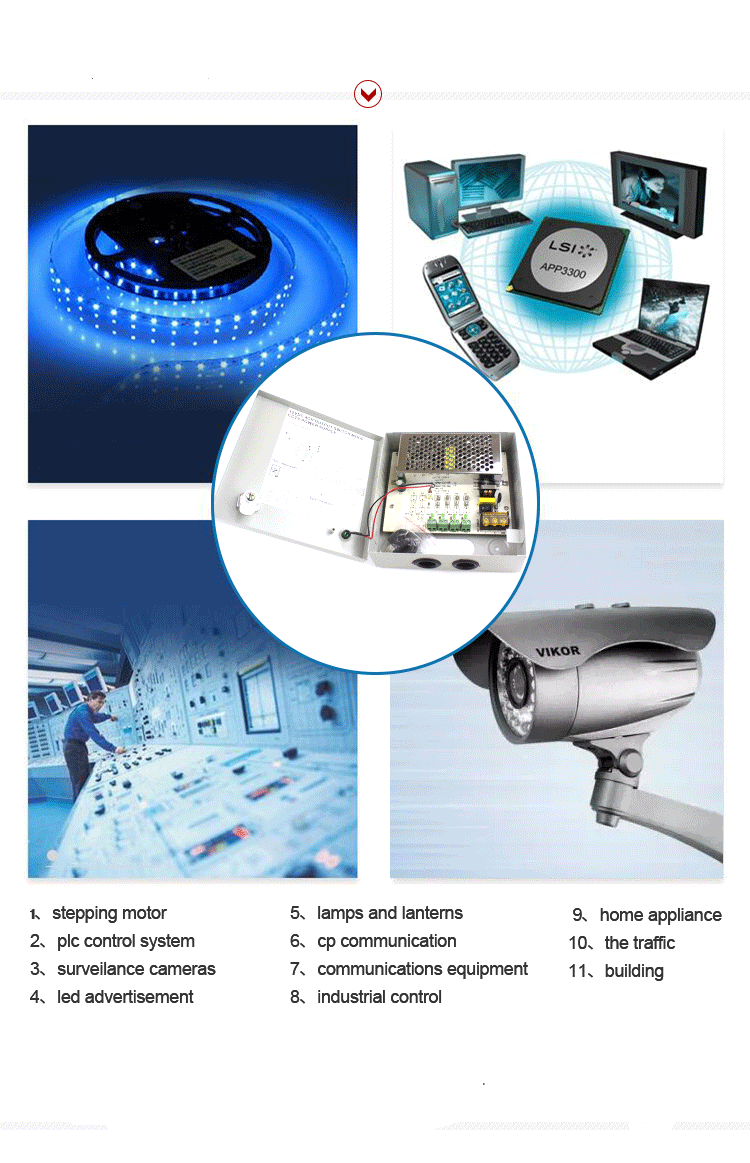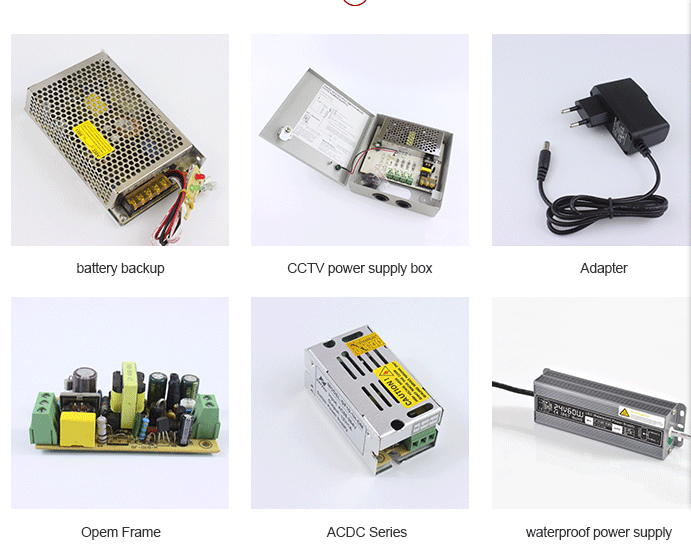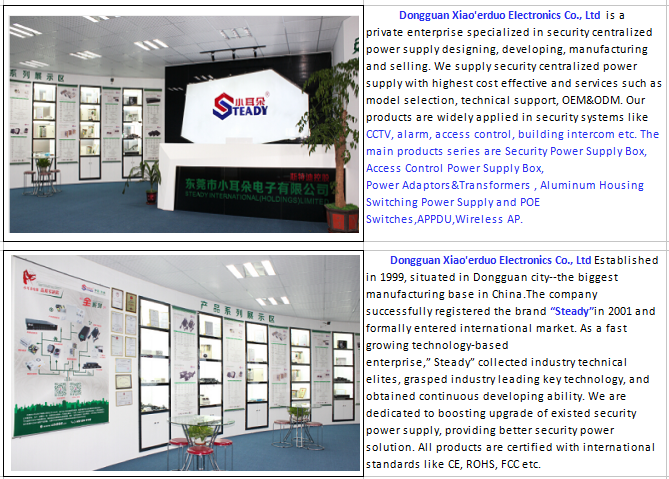 1. Tillverkningsprocess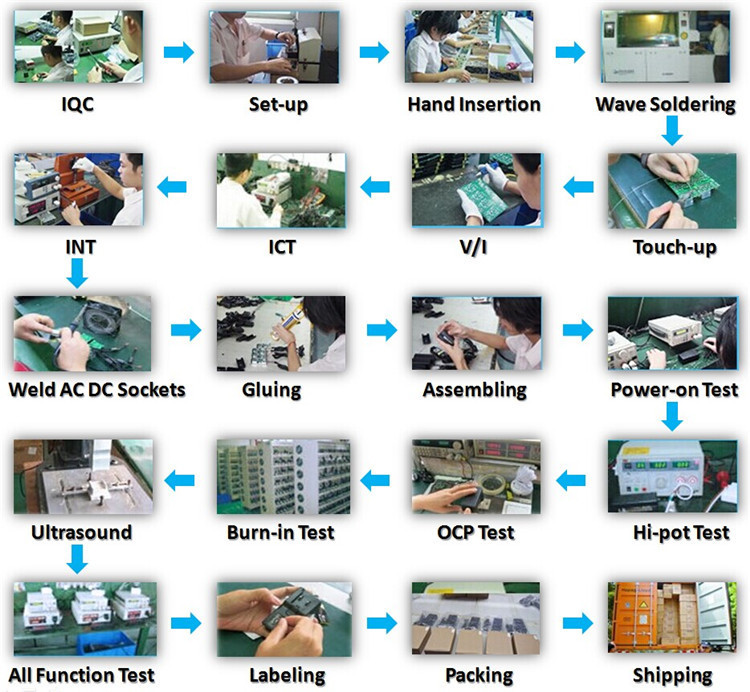 2. Utställning: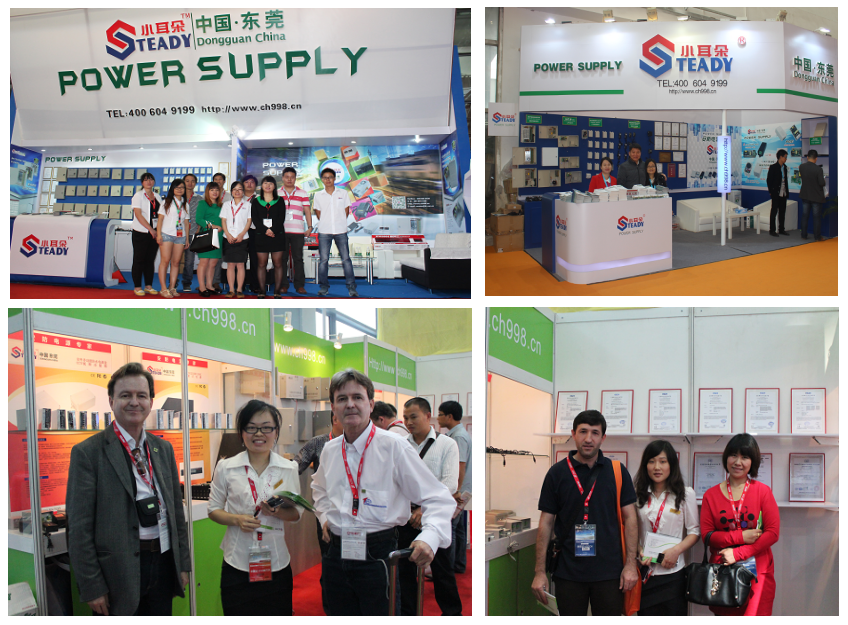 3.Certification: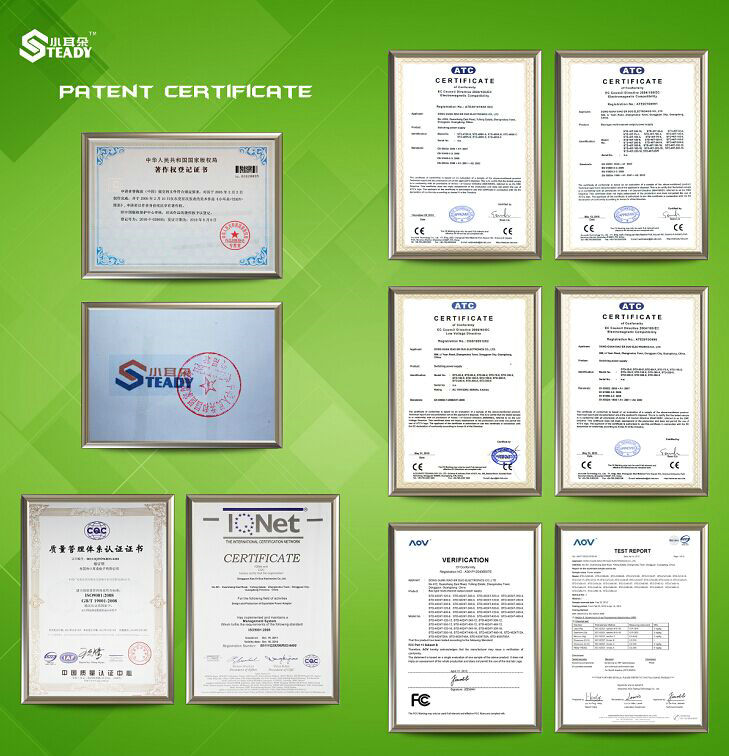 4. Förpackning och frakt: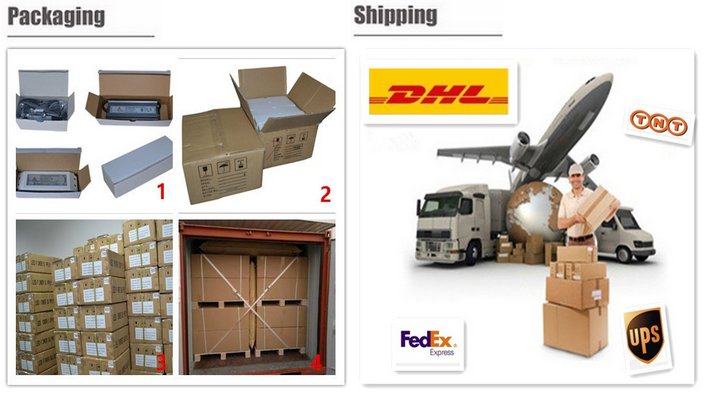 1. Vilken tjänst kan vi erbjuda?
1. Alla förfrågningar kommer att besvaras inom 24 timmar
2. Professionell tillverkare, välkommen att besöka vår hemsida
3. OEM / ODM tillgänglig:
A.Print-logotyp på vår produkt;
B. Anpassad specifikation;
4. After Sales-Service:
EN. Alla produkter kommer att ha 100% inbränningstest och strikt kvalitetsprov före leverans
B. Snabb leverans: 3-7days för prover, 15-20 dagar för bulkproduktion;
Produktkategorier : Boxad nätaggregat > Boxed Power Supply CCTV